Member Profile: Lesley Carter
A Family Travel Association member's son is now the youngest American to ever visit all seven continents.
Travel expert Lesley Carter of Bucket List Publications has been traveling her entire life, visiting nearly 100 countries at this point. While on the road, she does everything she can, from base jumping to dog sledding to caving and beyond—and her family (husband Cord and daughter Athena) often joins in. That includes her youngest child, Max Smith, who has visited all seven continents before turning 3 years old.
Upcoming Lunch & Learn:

March 29 | 12:30 - 1:00p.m. ET - Supplier Pitch from Heli Mende from Visit Finland

In this webinar you will be learning about family holidays in Finland, the happiest country in the world. There are plenty of year-round options for an activity-packed holiday with kids, from admiring the northern lights and meeting Santa Claus with his reindeer and huskies, to visiting a medieval castle, canoeing under the midnight sun or swimming in one of the thousands of lakes in Finland.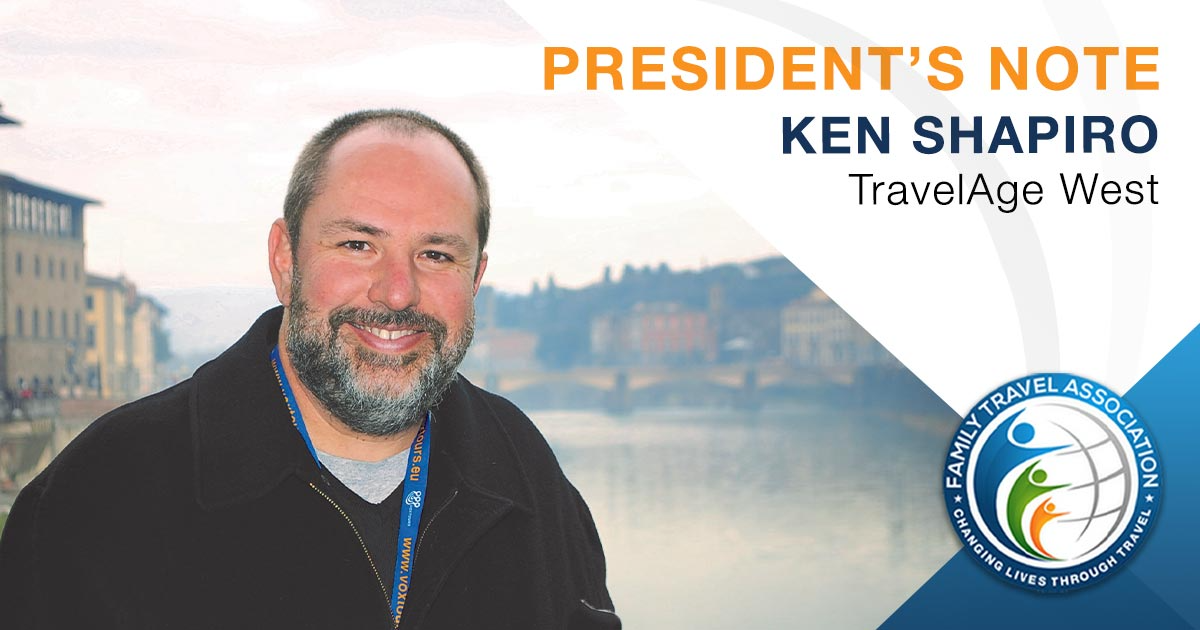 Welcome to the next edition of the Family Travel Association newsletter.
The past few weeks have been busy at the FTA, ever since the announcement by United Airlines — and then American Airlines, Alaska Airlines and Frontier Airlines (as of press time) — that they are changing their policy to make it easier for families to sit together on flights. The FTA has been advocating for this change for many years, and it's gratifying to see the airlines finally respond.
You might have seen the FTA comment on the topic in many local and national news sources, including television news segments in the Northeast, USA Today, The Points Guy and more. In addition to sharing the FTA view on the airlines' decision, we are all hoping that the momentum from this media attention will help shed light on other issues affecting family travel, including making travel more affordable and more accessible for all types of families.
As you'll read in this newsletter, the FTA has a lot going on, but advocating to make travel better for families helps to grow family travel overall, which in turn benefits all our members. Feel free to reach out to Kasie Smith (kasie@serendipity-media.com) if you have suggestions for other ways the FTA can engage in this mission.
-Ken Shapiro, President of the Board of the Family Travel Association
Research Snippet: Travel Inspiration and Information

The top three resources that provide US families with travel inspiration are movies (81%), TV shows (73%) and Pinterest (71%). Other social media platforms that provide inspiration are Instagram (68%), Facebook (61%) and TikTok (58%). Travel advertising inspired 61% of respondents.


The top three sources for travel information are government agencies (92%), travel supplier websites (77%) and tourism offices (73%). Travel clubs (72%) and travel websites (69%) follow closely behind. Click here for more data like this on the family travel industry.
Please mark your calendar for October 12 - 15, 2023 in Boston, MA. Stay tuned for more eblasts with details on the Summit.
FTA Supplier members, you're invited to join us for an informational meeting on Wednesday, March 22 from 3:00 - 4:00 p.m. EST!
Here's what will be covered:
FTA Summit 2023 | Details related to our 2023 Summit to be held in Boston, MA October 12 - 15.
Updated PR efforts aimed to increase the awareness of the FTA and family travel.
New programs and opportunities for Supplier members!
| | |
| --- | --- |
| | Interested in becoming more involved in the FTA? Joining a committee is a great way to start. Our current committees are for advisors, suppliers, media, events and DEI. Please reach out to info@familytravel.org to join the committee that best suits you. |
| | |
| --- | --- |
| | The Family Travel Association is growing! We are thrilled to welcome our new members... |
Best Places to Visit in Greece for Families

Kirsten Maxwell

From the inspiring beauty, captivating history, and snow-capped mountains to picturesque villages and turquoise waters, Greece is one of the top vacation destinations. There are many great places in Greece to visit; listing them all would be impossible. In this article, we list some of the best Greek Islands, historical sites, and attractions you can see on your trip.
Have something you want to share in our newsletter?