Join us for a Lunch & Learn
In 2023, the Family Travel Association is launching our new Lunch & Learn Series. Every other week on Wednesday, we'll invite a travel expert to discuss challenges facing the industry, changing trends and exciting opportunities ahead.
The first Lunch & Learn is February 15, with Fiji Tourism! They'll take you on a virtual tour through the Pacific islands' offerings. Then, join us March 1 for a discussion on Burn Out with Heather Davis from Music Travel Consultants. After that, we have a panel discussion on 2023 Booking Trends on March 15, and that's just to get things started. Head to familytravel.org for more information.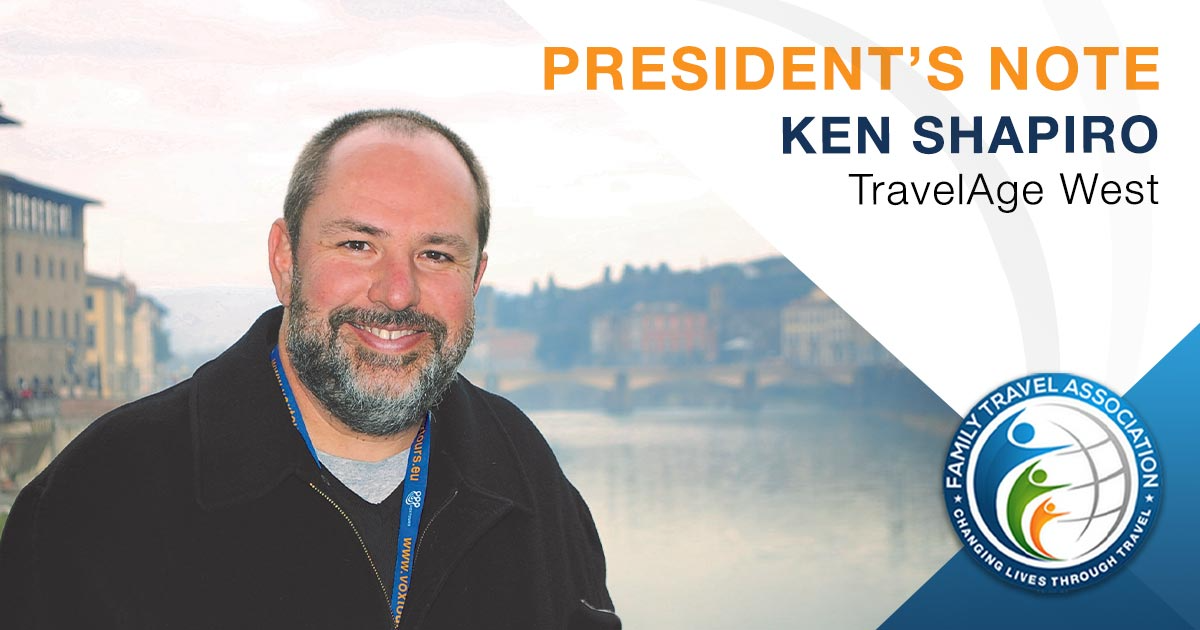 Welcome to the January FTA newsletter, and happy New Year to all our members!
The new year is a great time to look ahead and make some plans, and that's just what the FTA Board of Directors has been doing. A few weeks ago, the board held a strategic planning session where we discussed opportunities to add more value to members and grow the association in the coming year and beyond. We covered a lot of ground — you'll hear more about those ideas as the year goes on — but in particular, I wanted to mention a few things.
First, as you can read about in this newsletter, we're launching a Lunch & Learn series of virtual webinars and panel discussions that will run throughout 2023. These educational opportunities will happen every two weeks and will highlight the expertise of our members. The initial schedule is in this newsletter, but please let us know if you have a great idea for a future topic.
Second, we are very excited that plans for our first in-person Summit since the pandemic are almost complete! While we are not quite ready to share all the details, you can expect the 2023 Summit to take place in the fall. Details will be available as soon as the date is contracted with the hotel.
Finally, we're looking for members to volunteer for several of our committees, including the events planning committee, so please reach out and get involved. It's a great way to connect with others in the industry and to help shape the goals of the association.
Once again, happy new year to all and here's to a great 2023!
- Ken Shapiro, FTA Board President
The new year is already seeing changes in the travel industry, including the formation of a new holding company for community tourism pioneer and small-group adventure operator G Adventures. The new holding company will bring existing and new brand acquisitions under one overarching parent brand, named G Travel Community (GTC). Read more about G Travel Community here.
Research Snippet: Family Spending Outlook is Robust


In the next year, 53% of survey respondents plan to spend more on domestic travel, while 49% expect to spend more on international travel. Only 8% of respondents expect to spend less on domestic travel in the coming year, and 20% expect to spend less on international travel. These figures indicate that travel demand is robust, and currently not much affected by fears of a potential economic downturn.
| | |
| --- | --- |
| | Interested in becoming more involved in the FTA? Joining a committee is a great way to start. Our current committees are for advisors, suppliers, media, events and DEI. Please reach out to info@familytravel.org to join the committee that best suits you. |
| | |
| --- | --- |
| | The Family Travel Association is growing! We are thrilled to welcome our new members... |
Fun Things to Do with Kids in Door County, Wisconsin

Rina Nehdar

From cave kayaking along the cliffs of Lake Michigan to biking through Peninsula State Park and enjoying succulent lobster bakes and fish boils, Wisconsin's Door County has no shortage of enriching ways for families to have fun in the outdoors and experience local traditions.
Charter a Yacht for a Luxurious and Liberating Sailing Experience

Rina Nehdar

Since my last name is Kapitanski, I had to learn how to sail!" joked Boris Kapitanski while telling me about the 45-foot catamaran yacht he chartered with his wife and friends to sail through Croatia. They could have had it all: the captain, the chef, all the water toys, everything anyone would want to make their trip exactly how they desired
World-Class Scotland Tours Deliver Authentic Experiences

Nancy Schretter

Scotland is a popular destination for leisure group travelers, offering an enticing combination of ancient castles to tour, spectacular landscapes, and cultural heritage. Scotland's iconic golf courses and exceptional spirits are also significant draws for vacationers.
Top Mexico All-Inclusive Resorts For Large Families

Nancy Schretter

Mexico is one of the most popular destinations for international family vacations. The country offers a wealth of beautiful beaches and attractions, and its location makes flights from the United States and Canada easy for family travelers. Mexico also has numerous cultural attractions, and there are outdoor activities and adventures well-suited for families with kids of all ages.
Have something you want to share in our newsletter?