2023 FTA SUMMIT | REGISTRATION NOW OPEN!
The intersection of business, education and community for family travel.
The FTA Summit, in its new format, is ready to welcome family travel advisors, suppliers and media members. As a community, we'll revel in the resurgence of family travel and elevate our work in creating new experiences and possibilities.
We are excited to announce that registration for Summit 2023 in Boston, MA is now open! Register today and join in on this extraordinary experience.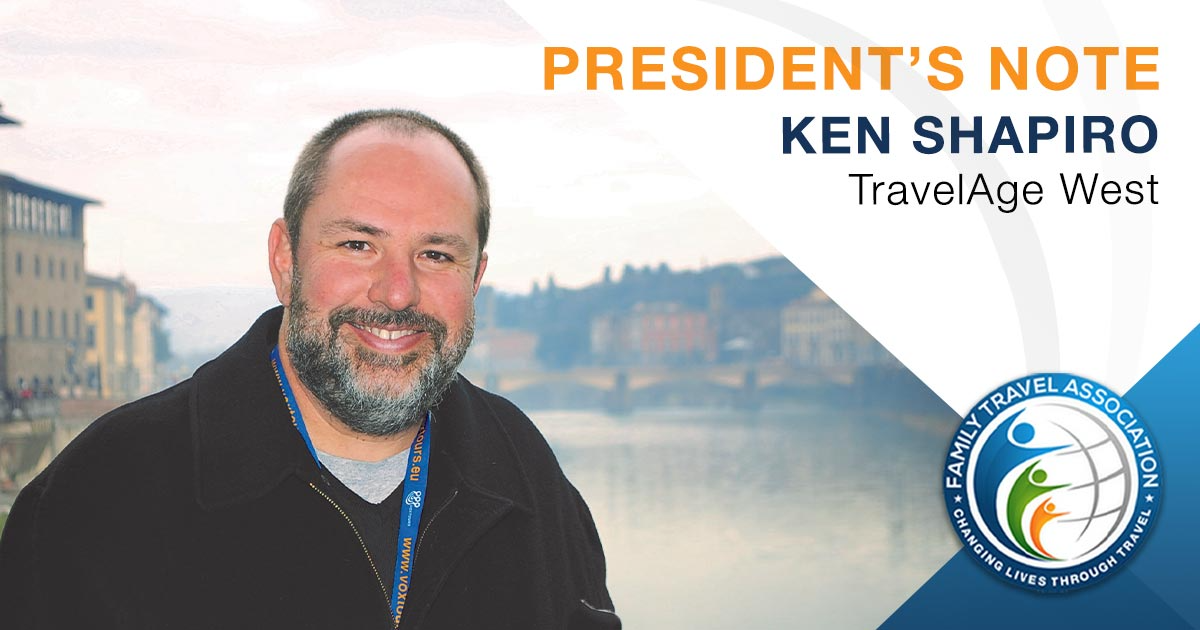 Welcome to the next edition of the Family Travel Association newsletter.
Spring is here and families are once again headed out on vacation in record numbers. Here at the FTA, we are always looking for ways to provide resources to members — suppliers, advisors and media — as they lend a hand and provide direction to these traveling families.
When it comes to resources, we would like to highlight our revised travel advisor certification program. We have spent a lot of time going through each of the modules and updating the content. As a reminder, travel advisor members who have passed this course can use the FTA seal of approval on their marketing materials — showing potential clients and supplier partners that you are truly an expert when it comes to booking family travel.
You can access the training from the hub on the member portal.
Also, as you'll read in this newsletter, registration is now open for our in-person Summit in Boston Oct. 12-15. This is going to be a major event for the organization, as it will be the first time in years that we will be able to network with fellow members face to face. Don't miss out! Sign up today.
-Ken Shapiro, President of the Board of the Family Travel Association
Research Snippet: Increased Demand for Fall and Winter Travel
Summer remains the most popular travel season, followed by spring break. 66% of respondents have taken a summer vacation in the past year, and 62% of respondents plan to take a summer vacation next year. The fall and winter seasons are appealing travel times for families: Compared to when they traveled last year, more families would like to travel in the winter holiday season, Thanksgiving and the mid-winter break in the next year. It is likely that as COVID concerns wane, more family get-togethers will be planned in the coming holiday season.
Lunch & Learn | April 26, 2023, 12:30 – 1:00 p.m. ET
Planning the Perfect Family Travel Adventure
with Kasey Morrisey, Austin Adventures
Planning the perfect family travel adventure for your clients is always the priority. This session will give you additional tips, tricks and secrets to spice up your next itinerary. Kasey Morrisey brings energy and enthusiasm, as well as the "how-to" when it comes to planning a family vacation. After getting her degree in elementary education, she joined the family business, Austin Adventures. First in the field as a guide—voted #1 Family Guide in the World by Outside Magazine a few years back—she eventually moved into the office to take the reins on all things adventure travel.
To register, click here
Lunch & Learn | May 10, 2023, 12:30 – 1:00 p.m. ET
Updates on Beaches Resorts with Karlene Angus-Smith
Discover the most recent developments on Beaches Resort's all-inclusive getaways by joining Karlene Angus-Smith, Assoc. Director of Industry Affairs, for our Lunch & Learn session. She will explain why Beaches has been recognized as the world's top all-inclusive family resort for 25 years straight, as nominated by the World Travel Awards. You will receive valuable insights on new accommodations and destinations, as well as information on the Beaches Autism Program. Learn how to effectively endorse Beaches to your clients and target market.
To register, click here
Lunch & Learn | May 24, 2023, 12:30 – 1:00 p.m. ET
Why African Safaris Should Be on Every Family's Bucket List,
and Yes, You Need an Expert with Julia Morgan
Safaris are literally a family affair at Journeysmiths. Managing Director Laura Burdett-Munns' love of Africa began at the tender age of one. It blossomed during countless safaris with her parents, Journeysmiths co-founders, and throughout her extensive career. Now, as a mother of two young children, she's delighted to share those experiences with her own family. Join Laura as she shares her family's extraordinary relationship with Africa, discusses why safaris should be on every family's bucket list, and explains how engaging an expert tour operator is imperative.
To register, click here.
Congratulations Travel Advisors!

Ta-Tanisha Thomas

Brooke Ryser

Heidi Austin

Irving Macario

Sarah Estelle

Carole Meeter

Lisa Costa